Hong Kong to launch Belt and Road exchange
October 12 2018 by InsuranceAsia News Staff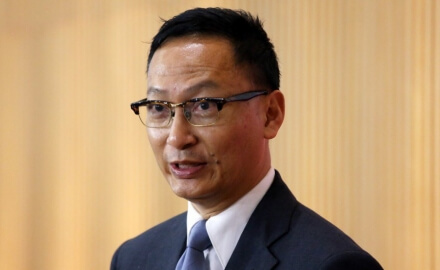 Hong Kong is planning to launch a platform to connect the city's insurance industry to opportunities to insure Belt and Road projects.
Speaking on October 12 in Hong Kong at the annual global Brokerslink conference, Clement Cheung, chief executive of Hong Kong's Insurance Authority (pictured), said the Belt and Road Insurance Exchange Facilitation would launch in December, providing opportunities for brokers, insurers, banks, captive managers, trade associations and other stakeholders.
"The project plans to connect Asia, Middle East, Europe and Africa through marine and train routes; it will cover 65 countries with 60% of world's population and 30% of global GDP," said Cheung.
"The idea is to increase connectivity by building infrastructure; this will involve policy, trade, finance and people. The main objective is to build markets and create investments for more economic growth."
"According to the Swiss Re [Economic Research & Consulting] by 2030 a total of over US$7 trillion will be invested in the Belt and Road initiative with US$5 trillion coming outside of China. [Swiss Re] believes the construction phase premiums will be worth around US$14 billion; in addition commercial lines in property, transportation, energy and other lines will be worth another US$13.5 billion of premium."
Cheung added that Hong Kong's judiciary, proximity to China, new regulator and free economy meant it is well placed to tap the potential of the project. He added the complexity of the risks meant those with access to sophisticated facilities and a global network would benefit from the Belt and road.
The official launch will be at the Insurance Authority Insurance Summit on December 11.
Meanwhile, at the conference Jose Manuel Fonseca, MDS group chief executive, was named as the new Brokerslink chairman to replace Gregory Allard, CEO of Filhet-Allard & Cie. Fonseca, the founder of Brokerslink, will start as chairman in January 2019.
MORE FROM: Legal/Regulatory