Greening insurance
February 1 2019 by Nick Ferguson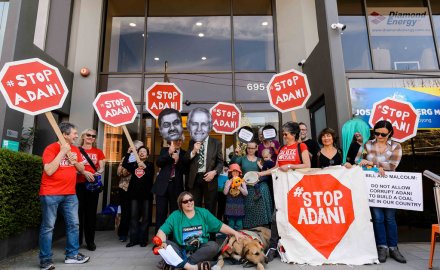 Green bond issuance hit a new record in 2018 with more than US$140 billion raised around the world, led by Chinese issuers who sold more than twice as much as the next biggest country.
Insurers and reinsurers have been an important source of demand driving the growth of the market, with the investment arms of several large companies signing up as partners of the Climate Bonds Initiative, an international network of financial firms pushing the development of the green bond market, including Allianz, Aviva, Axa, Legal & General and Zurich.
Natixis, the French finance and insurance group, joined the network just this month. "[The Climate Bonds Initiative] aligns with the core green objectives of our new dimension strategic plan," said Orith Azoulay, global head of green and sustainable finance at Natixis's investment banking arm. "We aim to become a market pioneer in green origination and distribution, and to double green business revenues by 2020."
Buying green bonds is a good step, but there is also growing recognition that the insurance industry has a direct role in enabling greenhouse gas emissions through the business that companies choose to write. After all, industrial polluters cannot operate without insurance.
Numerous European and Australian insurers and reinsurers have pledged to restrict cover for coal, including Allianz, Axa, Generali, Munich Re, QBE, Scor, Suncorp, Swiss Re and Zurich.
Such statements are undoubtedly a positive step forward, but as the industry has made efforts to support environmental initiatives, it is often noted that US insurers have lagged their counterparts elsewhere in the world — but even this may be changing.
Unfriend Coal, a lobby group that is pressuring insurance companies to get out of the coal business and support the transition to clean energy, claimed in January that FM Global has become the first US insurer to take action to limit its underwriting of coal-related business, having joined the concerted opposition to development of the Carmichael coal mine in Australia.
Insurance brokers are now also being pressured to do more. Unfriend Coal has been lobbying Marsh, Aon, Willis Towers Watson, JLT and Arthur J Gallagher to publicly rule out providing services to the mine.
"Brokers' climate pledges are worthless if they continue to undermine global climate targets by supporting coal expansion," said Peter Bosshard, coordinator of the Unfriend Coal campaign. "All actors playing a critical role in the global economy have a responsibility to bring their businesses in line with the Paris Agreement. The Unfriend Coal campaign will pay closer attention to the role of brokers in 2019."
The group notes that all of the brokers, except Arthur J Gallagher, have made climate pledges of one sort or another. Aon warned in a recent report that "the final outcome may be catastrophic" if society fails to take action to shift away from fossil fuels. Indeed.
However, it is not always clear what the industry's climate pledges mean. Note, for example, the expansion of European insurers and reinsurers into the Asian power market. Are they all underwriting wind farms and solar parks?
Perhaps, but coal is still the predominant source of power in emerging Asia. To be sure, there is also a not insignificant amount of gas-fired and hydro activity in the region's power sector, but there is a suggestion that some European companies may be taking a flexible approach to their prohibition on underwriting coal business.
"It is our understanding that Axa's underwriting guidelines explicitly allow for exemptions to apply in countries where coal comprises the main baseload energy, and others may apply the same criterion when faced with this 'real world' conundrum," according to David Reynolds, head of natural resources property and casualty at Willis Towers Watson, writing in a report on the renewables sector.
This is still more substantial than any broker's commitments, but such an exemption would apply in both China and India, where coal contributes more than 70% of electricity generation, as well as Australia, Hong Kong, Indonesia and Mongolia, according to the World Bank (see chart below for all the countries in the world where such an exemption might be applicable).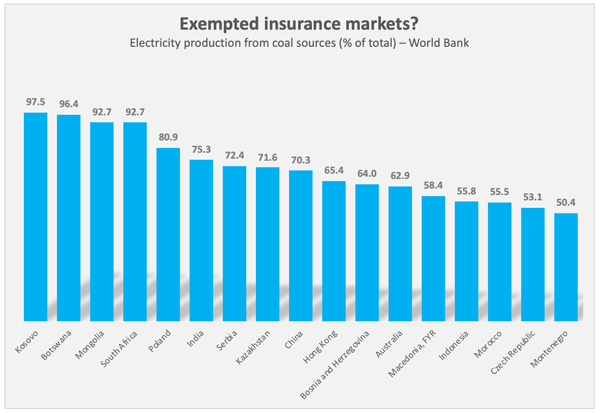 Realistically, it is unlikely that a small group of international insurers can stop the construction of coal plants, as Reynolds pointed out: "Together with the capacity of domestic insurers and those international insurers who have not declared a curtailed position on coal, coal plants in these countries might still be able to find enough commercial insurance cover for their needs."
However, it is possible that insurers' efforts can affect the economics of such projects. Adani, for example, was forced to announce in November that it would self-finance its US$1.5 billion Carmichael mine project after more than 37 global financial institutions, including all Australia's major banks, publicly rejected any involvement with the mine.
In turn, forcing such pain on project sponsors could help to make renewable projects more attractive. After all, China may still generate 70% of its electricity from coal, but it is also a significant investor in renewable power. In 2017 alone, the country installed 53 gigawatts of new solar capacity — five times more than the US, the next largest market.
Meanwhile, issuers in Indonesia and the Philippines issued green bonds in 2018, further indicating that investors, including insurers, are willing to provide green financing for climate-friendly projects in emerging Asia.
There is clearly more that can be done, especially by US insurers and the brokerage sector, but the greening of the insurance market is an important and necessary step to averting a climate catastrophe.