Fubon Life buys Frankfurt's Eurotower for US$658m
December 31 2018 by InsuranceAsia News Staff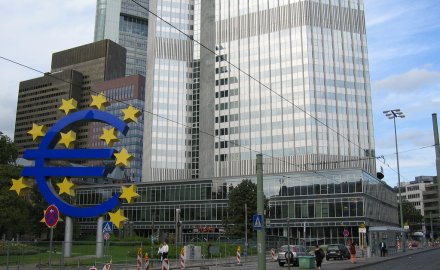 The 40-storey Eurotower office building, pictured, in Frankfurt has been acquired by Fubon Life Insurance.
Although the transaction price has not been disclosed it is understood Fubon has bought the property for around €575 million (US$658 million). The office building, one of the most famous towers in Frankfurt's financial district, served as the ECB's headquarters until 2015 and is seen as the birthplace of the euro.
The building, which still has an iconic large euro outside, was the first office of the European Central Bank. The ECB has since moved most of its operations out of the building to a different part of Frankfurt.
Fubon Life also owns the building housing the landmark waxwork celebrity museum Madame Tussauds in Marylebone, London. It bought the building for around US$540 million in 2015 after announcing plans to invest US$3 billion in global property assets after a change in investment regulations in Taiwan.
The property acquisition of the Eurotower, which was built in 1977, is Fubon's first deal in Germany. European property firm Patrizia Immobilien, headquartered in Augsburg, Germany, carried out the acquisition on behalf of Fubon Life which is owned by Fubon Financial Holdings.