First half nat cat bill highlights protection gap
July 31 2019 by Andrew Tjaardstra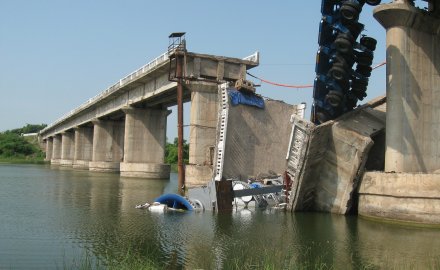 While insured nat cat losses in the first six months of this year were down overall globally, Asia- Pacific's bill at US$2.4 billion was higher than the regional H1 median bill of US$2.1 billion since 2000, according to Aon Reinsurance's latest global catastrophe report from its modeling Impact Forecasting.
This insured loss was primarily driven by flooding in Townsville, Queensland between January 26 to February 7 which resulted in around US$1 billion of claims.
However, while insured losses might have decreased there were several large disasters which showed just how wide the protection gap still is in the region.
This included floods in Iran which killed 77 people and caused over US$8.3 billion of economic losses, Cyclone Fani in Bangladesh and India which killed 81 people with at least US$8.1 billion of losses and June flooding in China which killed at least 225 people resulting in over US$7.7 billion of losses.
Another serious disaster which highlighted the protection gap was Cyclone Irdai in Mozambique which killed 1,303 people and cost over US$2.2 billion.
The first half of the year also brought numerous heat and rain records suggesting that climate change is fast bringing us into a dangerous new world.
Steve Bowen, Impact Forecasting director and meteorologist, said: "While the first half of 2019 was not an abnormally costly start to the year for the insurance industry or federal governments around the world, it was notably impactful from a humanitarian perspective."
He continued: "Numerous record-breaking weather events – including tropical cyclones, precipitation, and extreme temperatures – highlighted the continued vulnerabilities faced by populations in developing, emerging, and developed countries."
"The events of this year already highlight the need to enhance mitigation and resilience measures by modernising infrastructure, minimising the protection gap, and incorporating a combination of public and private market solutions. This will be even more important as we face more impactful small and large-scale weather and climate-enhanced events in the future."
Globally, according to Aon, there were US$20 billion of insured losses were sustained by the public and private insurance and reinsurance market during the first six months of 2019; this compares with US$21 billion in the same period last year; global economic losses came in at US$73 billion for the same period – 22% lower than the H1 average of US$94 billion since 2000.
After several years of punishing losses the market will be hoping the second half of year can also remain below or as close to average as possible.
Guy Carpenter is predicting that fewer tropical cyclones than normal will make landfall during the May-to-October period thanks to a weak El Nino effect.
The prediction, which is based on a regional climate model developed by Guy Carpenter's Asia-Pacific Climate Impact Centre and City University of Hong Kong, is for 18 typhoons to form in the western North Pacific basin and for 11 to make landfall.
While this is only slightly below average for the region as a whole, the good news is that weak El Nino years in the past have been associated with significantly fewer typhoons making landfall in the South China sub-region — down to just 2.2 from an overall average of 4.3.
Meanwhile Typhoon Wipha is arriving near Hong Kong with the Hong Kong Observatory about to raise the second highest warning T8 in the afternoon of July 31; the market will be hoping the storm is relatively benign.