Fed hike offers mixed blessing
June 15 2018 by Nick Ferguson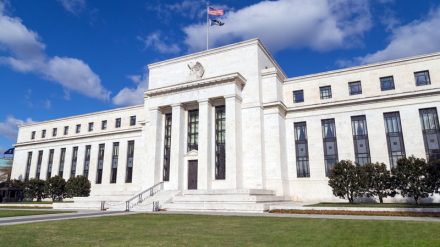 The US Federal Reserve raised its policy rate a quarter point this week in a widely expected move, despite growing trade frictions and fears about global economic growth.
The Fed's move raised its policy rate to a range of 1.75% to 2% and the Federal Open Market Committee signalled that there would be two more rate hikes this year, for a total of four in 2018.
Continued normalisation of interest rates should be welcomed by insurance companies, which stand to benefit on both the balance sheet and the income statement, but the environment for Asian insurers is complicated by the divergent path of monetary policy in the region, where rates are forecast to remain low and insurance portfolios are hunting for yield.
While central bankers in Tokyo and Beijing continue to be concerned about growth, the Fed is confident that the US economy is on a steady path.
"In an increasingly uncertain world, US monetary policy remains reassuringly boring," said Stefan Kreuzkamp, chief investment officer at DWS, who broadly agrees with the Fed's generally upbeat outlook.
There are some uncertainties that bear consideration. After a whirlwind trip to Singapore for a meeting with North Korea's Kim Jong-un, Donald Trump once again threatened to escalate the trade war with China.
"China could be a little bit upset about trade because we're very strongly clamping down," he said in an interview with Fox News aboard Air Force One. How strongly, asked the interviewer, to which Trump replied: "You'll see over the next couple of weeks."
On Thursday, he followed that up by approving the US$50 billion in tariffs on Chinese goods that he first proposed in April.
Even so, the Fed forecasts that US economic growth will persist above trend at least through next year, while unemployment looks set to fall further below its long-run natural rate.
It is not just the uncertainty caused by a maverick US president that is making the Fed's job difficult. It has now hiked rates seven times since 2015 and is getting close to a neutral rate environment, which raises the stakes for each subsequent hike.
"The flattening Treasury yield curve could indicate that monetary policy is close to becoming restrictive, which could choke off growth more than the Fed intends," Tiffany Wilding, an economist at bond fund Pimco, wrote to clients.
Wilding says that the Fed's projections suggest that it is more focused on managing the risk of overtightening than worrying about overheating risks.
While conventional wisdom holds that rising rates are bad for bond investors — because bond prices fall when rates rise — Pimco, which is a subsidiary of Allianz, asserts that higher rates ultimately more than offset the initial temporary mark-to-market drawdown for long-term investors such as life insurers.
"It is also worth noting that over the past 30 years, global bond market declines have been small and short-lived compared with stock market declines," the bond fund pointed out in a recent research paper. "A fact that might surprise investors is that since 1990, global bonds have only experienced negative returns in two calendar years – 1994 and 2013."
However, this may be cold comfort for Asian portfolios. China's central bank, like most in the region, chose not to react to the Fed hike and Asian stock markets fell. Weak Chinese retail sales and urban investment data added to the negative sentiment.
So while an improving US economy and normalising of Fed rates is generally good news for portfolios, the decoupling of economies suggests that a rising tide may not lift all boats. The hunt for yield is likely to continue.