Expect a volatile Year of the Pig?
February 8 2019 by Nick Ferguson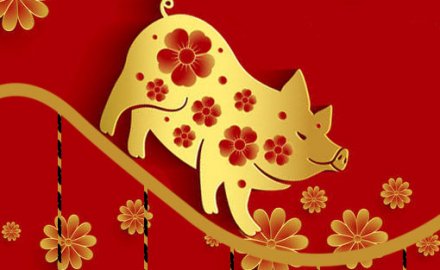 As all Hongkongers know, wild pigs can be an unwelcome nuisance and even downright scary if provoked. And that might be a good description of how the Year of the Pig is going to pan out for investors, according to CLSA's annual Feng Shui Index, which provides an alternative insight to the coming lunar year.
High levels of volatility, as seen at the end of last year, would mean more bad news for insurers' investment books. With low interest rates continuing to produce subpar fixed-income returns and the US Federal Reserve backing off from further rate hikes, insurance books would benefit from lower volatility and a better year for stocks.
They might not be so lucky if CLSA's amateur geomancers are right. They forecast that February, May, August and November will be the most volatile, with sudden drops or rises likely to take the market by surprise. The focus for investors, they say, will be on limiting losses rather than chasing large gains. "Do not let your inner rooster off the leash, keep the bird in sight and act accordingly."
However, that prediction is already looking dubious with January, in fact, providing a surprise upside for stocks. Hong Kong's Hang Seng index was up 8% for the month and the S&P 500 recorded its best start to a year since 1987. It will be a volatile year indeed if there are bigger surprises to come.
It is true though that asset managers are in loss-limiting mode. Volatility tends to be correlated with falling stock prices and many insurance investors now actively track volatility levels to dynamically adjust their portfolios to meet a fixed volatility target.
Some critics argue that these types of "volatility control" strategies make market swings worse and led to an automated sell-off in December when the Chicago Board Options Exchange Volatility Index (Vix) rose above 35. With volatility levels now back to around 15, stocks have bounced back. Deutsche Bank estimates that portfolios using these strategies bought US$45bn of US stocks in January.
This buying trend could continue for some time as many of these strategies limit their sensitivity by using 30- or 90-day rolling volatility measures, both of which peaked in January and are only now starting to fall. Indeed, while the spot Vix index has hit similar highs to December relatively often, the less sensitive 30- and 90-day measure of volatility is at the highest level since 2011.
Given this, it is possible that CLSA could be right about a sudden rise in February as more of these volatility control strategies re-enter the market, but this would probably not qualify as a surprise.
Some of CLSA's other predictions include strong growth in Vietnam, significant weakening of the renminbi, pound sterling hitting parity with the dollar, the strongest hurricane in living memory making landfall in the US, major gains in robotic process automation and various pig-related breakthroughs.
CLSA is not alone in reading the flow of energy for investment tips. One of the five arts of Chinese metaphysics, feng shui is about as accurate as the average market analyst, so Malaysian bank CIMB invited local chi expert Kenny Hoo to speak at a lunch it hosted last week.
Hoo predicted that wood element businesses such as rubber, rubber gloves, palm oil, education and the medical industry will do well, as well as industries under the fire element, such as electronics and telecoms. For what it's worth, CLSA's tea leaves agree that tech and telecom stocks should do well. Take it with a pinch of salt.