Eastern exposure
September 15 2017 by Nick Ferguson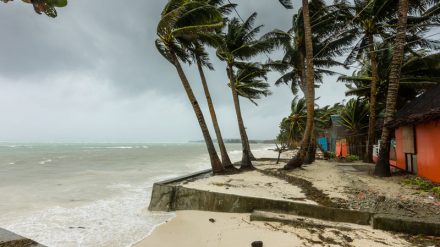 Hurricane Irma threatened to cause huge losses for insurers as it headed towards southern Florida, but industry estimates now put losses at the lower of the scale. However, with climate change warming up the oceans and mass urbanisation creating huge megacities in vulnerable areas, what are the risks that Asia is on its way to creating Florida-style risks? Is the Pearl River Delta set to become Asia's Miami?
Allianz Global Corporate & Specialty answers these questions and more.
What is contributing to the growing severity of hurricanes?
Hurricane severity is expected to increase over the next decades as warmer sea surface temperatures could intensify tropical storm and speeds, potentially delivering more damage if they make landfall. Furthermore, rainfall rates during these storms are also projected to increase by 20%. In addition, sea level rise is likely to make future tropical storms more damaging. According to AGCS, the severity of losses from weather events including windstorms is increasing. The average amount paid by insurers for extreme weather events including windstorms increased from US$15 billion a year for the decade 1980 to 1989 to US$70 billion a year between 2010 to 2013.
What are the risks of Asia (including East Asia, South-East Asia, South Asia and, to some extent, Australia) suffering an Irma-scale event? Any of these regions more at risk than others?
Increasing assets and a booming population clustered around tropical storm hotspots in the face of intensifying storm activity means the potential for larger windstorm losses across Asia continues to increase. Ten years ago, the top 10 global cities in terms of assets exposed to coastal flooding due to storm surge and damage due to high winds were Miami, Greater New York, New Orleans, Osaka-Kobe, Tokyo, Amsterdam, Rotterdam, Nagoya, Tampa-St Petersburg and Virginia Beach. These cities contain 60% of the total exposure, but are from only three countries: US, Japan and the Netherlands. Based on projections for 2070 — the exposure landscape looks very different with asset exposure forecast to grow dramatically, reaching US$35 trillion by the 2070s; more than 10 times the level around Katrina and rising to roughly 9% of projected global GDP in this period. The top 10 cities (map on page 9 of Katrina 10 Report) are Miami, Guangzhou, New York, Kolkata, Shanghai, Mumbai, Tianjin, Tokyo, Hong Kong and Bangkok, meaning Asian cities account for 80% of the top 10 exposed locations in future with four of these locations in China (including Hong Kong) alone. The city of Tianjin in China — scene of a factory explosion and largest insured loss globally in 2015 — is the seventh top city in the world ranked by asset exposure to coastal flooding and wind damage in future. The impact of a severe windstorm event in the area would obviously be much more widespread and devastating than the blasts.
AGCS insurance claims analysis shows that there have been 27 major windstorm losses in the South-East and Far East Asia region (insurance industry claims above €100,000) between 2009 and 2013; about 6% of the global total. Japan accounted for half of these losses (14); China (8) and South Korea and the Philippines two each.
Are Asian coastal megacities prepared to withstand a direct hit from a severe windstorm (like Haiyan) and its associated storm surge? If not, what steps should they be taking?
The exposure map shows the value of the assets potentially at risk from a Katrina-type event. The situation is exacerbated by the fact that growth of exposures is far outpacing take-up of
insurance coverage resulting in a growing gap in natural catastrophe — including windstorm — preparedness and response. For example, Haiyan is the costliest tropical storm event in Asia by overall losses (US$10.5 billion) in the past 35 years. However, only approximately US$700 million of this was insured.
More recent events than Haiyan have provided a reminder of the perils associated with storm surge. In 2014 as Typhoon Rammasun tracked across the Philippines it was accompanied by a storm surge reported to have reached three metres in height, causing widespread damage along the eastern coast of the islands. Such losses also highlight the need for more research and resources to be committed to better understanding flood risk, for which there are currently fewer modelling solutions available compared with other natural catastrophe perils. Having a flood plan in place — which is a properly documented series of actions — is absolutely vital in the event of a potential flood happening. Flood mitigation can be the difference between suffering a serious loss and a catastrophic one.
Preparedness is crucial to mitigating windstorm losses, particularly in highly-susceptible areas such as construction sites. There needs to be a greater emphasis on reviewing pre- and post-loss risk management. There are four crucial stages to windstorm loss mitigation — pre-, during and post-windstorm and continuity planning for after the event. Better education around the effects of typhoons; reviewing and improving construction guidelines and increased third party inspection of exposures are steps that can be taken to improve windstorm loss mitigation. Business planning should include the development of a comprehensive windstorm emergency plan, to be updated and tested regularly. If such procedures are not in place or reviewed regularly, the magnitude of windstorm losses can increase significantly.
Any examples of Asian megacities that have been putting in place better storm surge and wind protection building codes? Any megacities in particular that are at most risk?
China has the biggest flood loss potential for industrial parks with estimates suggesting 52% at risk of river flooding and 25% threatened by storm surge. The Pearl River Delta alone has higher loss potential than all of Thailand, which in 2011 experienced the largest flood loss in history — costing approximately US$50 billion in economic damages and more than US$16 billion in insured losses, a significant proportion of which were attributed to contingent business interruption (CBI) losses stemming from thousands of factories owned by multinational companies being inundated. The scale of the CBI losses in Thailand took many companies by surprise. Businesses still need to spend more time examining their potential CBI/supply chain risk exposure. They put a lot of time into assessing direct damage and looking at their own business interruption impact but probably not as much as they should do in terms of the risks associated with supplies and customers.
Why are the risks growing?
Population growth, socio-economic growth and urbanisation are the most important drivers of the overall increase in exposure. Exposure rises most rapidly in developing countries, as development moves increasingly into areas of high and rising flood risk. A study by the Texas A&M and Yale Universities found that by 2030 the amount of developed low-elevation coastal land in China will have increased by more than 60,000sqkm since 2000. Significantly, as the exposure map shows, Asian cities account for 80% of the top 10 exposed locations in 2070. Statistics forecast that the population in Asia is set to double by 2050 — particularly in urban coastal areas. An increase in prosperity also means the number of people defined as middle class is expected to double between 2009 and 2020. And future increases in income are likely to double tropical cyclone damage even without the impact of climate change, according to a 2012 report on The Impact of Climate Change on Global Tropical Cyclone Damage.
Lastly, we talk about a likely rise in losses from major weather events in Asia, this will also be a function of more people and businesses taking out insurance from fairly low levels currently in most parts of Asia. Is that correct?
Yes, although as pointed out above, growth of exposure is far outpacing take-up of insurance coverage at the moment. In 1950 there were just two conurbations of at least 10 million people — New York and Tokyo. Today, there are 28, 15 of them in Asia. The level of investment in infrastructure is unlikely to keep pace with this rapid pace of urbanisation, potentially impacting coastal defences, building codes and disaster preparedness.