Digital Hong Kong
September 14 2018 by Nick Ferguson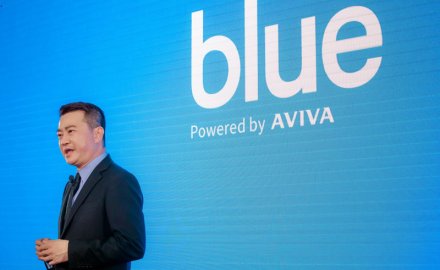 Hong Kong's first online life insurer started selling policies on Wednesday under the brand Blue. The business, which is part of Aviva's digital transformation, is a joint venture between the British insurer's Hong Kong unit and Hillhouse Capital and Tencent.
But Blue is not the only insurer claiming to be the city's first digital insurer. Also this week, insurtech startup OneDegree raised HK$100 million (US$12.7 million) in Series A funding, billing itself as the "first digital insurer candidate in Hong Kong with a fully digitised insurance process end-to-end". The deal represents the largest ever fundraising round for a pre-revenue insurtech startup in Hong Kong.
Through its website, Blue is currently offering two commission-free policies covering term life and critical illness, and is aiming to shake up an industry that is dominated by bancassurance and agency sales. Indeed, direct sales contribute just 1% of individual business in Hong Kong, mostly through FWD Life.
Blue's products offer instant, paperless approval based on a handful of assessment questions. The term life product provides up to HK$8 million of coverage, while the critical illness plan covers cancer, heart attacks and stroke up to HK$2.5 million.
"We strive to provide solutions catered to customers' needs," said Charles Hung, the company's chief executive, who was previously chief risk officer of Aviva Asia. "We will remove the complexity from insurance and unlock exceptional value for customers. We will help customers take ownership of their own protection, as we believe that customers know their needs best. We are committed to making their lives easy by doing what is right for them."
Aviva first announced the agreement to develop a digital insurance company in Hong Kong with Hillhouse and Tencent in January 2017, when it revealed that Aviva and Hillhouse would each hold 40% and Tencent would hold 20% in Aviva Hong Kong. The joint venture was approved by the Hong Kong Insurance Authority (IA) in February.
Having been slow to take advantage of the growth opportunity in Asia, Aviva has been focusing on differentiating from the competition by transforming itself into a digital insurer. To that end, it has set up a digital garage in Singapore that helped the Asia business to recorded a 28% increase in the value of new business to US$119 million during the first half of the year.
Through Blue, it is hoping to cultivate a direct relationship with policyholders that affords the opportunity to deliver a better customer experience without, for example, a bank sitting in the middle.
As Chris Wei said when we first spoke to him about the insurer's digital plans in the region back in 2015: "Every insurance company says: 'We've got to go digital first, we've got to get customer centric.' At the end of the day, it's about execution," explained Aviva's executive chairman for Asia and FPI, and global chairman of Aviva Digital.
The success of the new venture will be a test of that ability to execute, but it is also a welcome addition to the competitive landscape in Hong Kong. The city has been slow to embrace the shift to digital and has been accused of letting Singapore gain an advantage as a regional insurance hub, but the launch of Blue is a positive step in the digital direction.
The regulator has at least been trying to foster more innovation. It created a fast-track pilot scheme for digital-only insurers last September, providing a dedicated queue for new authorisation applications from insurers using purely digital distribution channels. The goal of the scheme is to speed up the authorisation process by giving the authority an opportunity to review proposed digital distribution channels at an early stage.
OneDegree is in the process of obtaining authorisation through the scheme. Its insurance platform will support personal-line general insurance and health insurance products, integrating a user-friendly front-end app with a back-end system that enables advanced analytics and automation of claims processing, policy management and customer service.
"We're on the cusp of a new era," said Alvin Kwock, co-founder of OneDegree. "Today's insurance models are no different from how it was done 100 years ago, and one of the major reasons of this inertia is outdated technology systems. We're taking on a tall task by modernising an industry with large incumbent players, and building a highly flexible and scalable insurance technology platform from scratch."
It seems that digital insurers are like Hong Kong trams — you wait ages for one and then two show up at the same time.