Singapore sees potential in Seadrif and Adfri: SIRC 2019
October 31 2019 by Yvonne Lau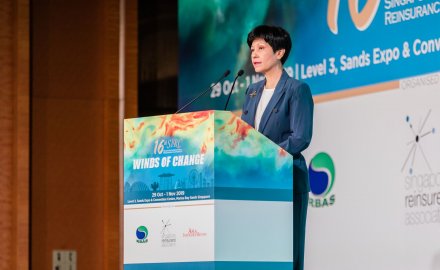 Indranee Rajah, a minister in the Singapore prime minister's office and second minister for finance, highlighted the need for decisive market action to mitigate risks from a continuously changing and challenging environment.
Speaking on October 30 at SIRC 2019, Rajah (pictured) noted risks including climate and disaster risks, and increased infrastructure investment risks.
In terms of climate and disaster risks, natural catastrophe events and the consequent losses have increased in Asia-Pacific. The costs have risen from US$5 billion to US$89 billion since the 1970's; while the number of natural disaster events has risen from an average of 44 to 144 in the same period.
The Asean Disaster Risk Financing and Insurance Program (Adfri) and South East Asia Disaster Risk Insurance Facility (Seadrif), which received its license from the Monetary Authority of Singapore in the last few weeks, are collaborative South East Asia programmes looking to mitigate climate risks.
Infrastructure has great potential in Asia, with requirements standing at US$1.7 trillion a year to 2030.
Investors remain cautious however, due to unfamiliar, traditional and new risks. The Belt and Road Initiative Insurance Consortium has added two new lines of business to service Belt and Road initiative infrastructure projects – political violence and political risk.
Meanwhile, in Singapore, syndicates at Lloyd's Asia have helped establish a political risk insurance facility with a total capacity of up to US$250 million per risk. 
Rajah argued that solutions to combatting these risks can be found in partnerships and collaboration across all players.