Clarity needed to boost Asia's business confidence
August 14 2019 by Andrew Tjaardstra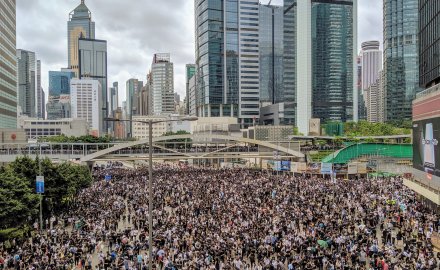 Insurers' results so far for the first half of the year appear to be solid if not spectacular in Asia.
Ageas, Allianz, Aviva, Generali and Manulife – which have offices across the region –  have all reported growing profits in the first half suggesting the fundamentals are strong for Asian insurance – particularly in the life segment. However some of Asia's bellwether markets such as Hong Kong and Singapore are going through a particularly tricky period.
The US-China trade war – and the uncertainties surrounding it – are hampering regional growth – for example Singapore's government has revised down GDP expectations to between zero and 1% growth this year earlier this week after an unexpected quarter-on-quarter contraction of 3.3% from Q1 to Q2 – it grew 0.1% compared with the same Q2 period in 2018 – meaning it is the slowest growth update in a decade.
Hong Kong too experienced a quarter-on-quarter decline of 0.3% but grew 0.6% over the same period in 2018; sluggish domestic demand and weak external demand were to blame.
The uncertainties in Hong Kong around the protests against the government and police will further deter economic activity in the Special Administrative Region and in particular hit life insurance businesses which rely strongly on visitors from mainland China – some reports suggest sales are down 10% to 20% from mainland China. However, it is extremely difficult to tell how long the protests will last and how much business will ultimately be affected; already business travel has been affected by the sudden closures to the airport – one of the most important hubs in the world – over the last two days.
Meanwhile strong growth economies such as China and India are struggling to keep the momentum of recent years. In India, July's carmakers had its sharpest one-month sales decline in 18 years as a combination of new safety and emission regulations, clouds at India's consumer finance providers and a wider economic slowdown has hit sales.
Patrick Rozario, managing director for Moore Stephens Advisory Services in Hong Kong, told InsuranceAsia News: "There are a lot of uncertainties around the world at the moment including the US-China trade war and Brexit which are meaning some business decisions are being delayed. While the protests, of course, don't help – the slowing down of the Chinese economy has had a greater impact on Hong Kong's economy and to some extent the wider region."
He added: "We hope greater clarity to some of the situations – hopefully by the end of this year – can mean businesses can plan with more certainty which will foster a healthier economic environment."
For pan-Asian insurers with offices around the region – economies such as Cambodia, the Philippines and Vietnam will become more important, while government infrastructure spending will play a critical role in maintaining jobs, demand and growth.
In Asean countries it is strong premium growth, favourable demographics, improving education and a growing middle class that are its main drivers and strengths.
The Asean economies are seeing steady growth. Zainudin Ishak, president and chief executive Malaysian Re, told InsuranceAsia News earlier this year: "For Asean, premium growth for 2018 was between 5.5% to 6%, and we have seen a similar growth pattern for the mid-year of 2019. Pricing has been generally flat this year and we see signs for the market softening to continue in the region."
While some markets in Asia are experiencing a tough economic time – others continue to grow. The market will be hoping clarification over the trade war, Hong Kong protests and Brexit will usher in a period of stability and renewed sense of purpose; and hopefully it will remember – it is a marathon – not a sprint.