China's pork crisis
October 4 2019 by Nick Ferguson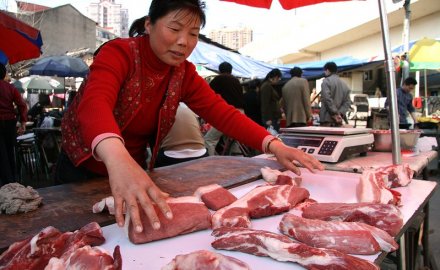 Half of China's pig population was killed during the first eight months of the year, either as a direct result of the African swine fever epidemic devastating the country's pork industry or as a result of culling aimed at stopping its spread.
The loss is expected to rise to more than 55% of the total hog herd by the end of the year, analysts at Rabobank said this week, while overall pork production is expected to be down 25% for the year. An additional 10% to 15% decline is forecast for both herd and pork production in 2020.
Chinese officials first reported outbreaks of swine fever last August and initially struggled to control the spread of the disease, resulting in the massive cull that took place during the first half of this year.
Sales of agricultural insurance have been growing in recent years, driven by subsidies of as much as 95%, as part of a government commitment to eliminate poverty by 2020 and modernise the country's agricultural sector. Indeed, China is now the world's second-largest agricultural insurance market.
However, the subsidies are mostly focused on crop insurance and it remains the case that livestock insurance is still rare among many smaller pig farmers.
Many farmers have been financially ruined by the epidemic. Even farmers with insurance have complained that their claims are being rejected, with one in Jiangxi telling the SCMP that neither his insurer nor his local government would provide compensation after claiming the fever is a force majeure event.
That is certainly not the view of the central government. Official documents released in September last year said that farmers would be paid Rmb1,200 (US$168) for each pig culled due to swine fever, though the requirement for local authorities to provide around half of that sum has led to delays in payments and even accusations that outbreaks are being covered up to avoid paying at all.
Combined with many other failures to manage the outbreak, this type of obfuscation has helped the disease to reach epidemic proportions — and it continues to spread in the south and south-west of the country. Even the concerted efforts of the government have failed to prevent prices from rising. Live hogs are at least 40% higher than last year, while piglet prices have more than doubled since January.
Rebuilding of the hog herd in China will take more than five years, according to Rabobank, especially as many farmers have shifted to other livestock such as chicken, ducks and geese, and are reluctant to take on the risk of breeding pigs again.
Meanwhile, African swine fever is spreading in Vietnam, Laos and Cambodia, with new cases reported in North and South Korea. Vietnam's pork production is forecast to drop by 15% to 20% in 2019.
How China responds to the epidemic will be crucial. Farming practices need to be modernised, including better approaches to disease prevention, more capital and higher investment requirements, as well as solving long-term issues such as limited land access and strict environmental standards.
Insurance can also play a role, with an even bigger commitment to increase penetration through the expansion of government support to more agricultural products, including livestock.