China's Huize sees 40% GWP jump as CEO "optimistic"
June 2 2020 by Yvonne Lau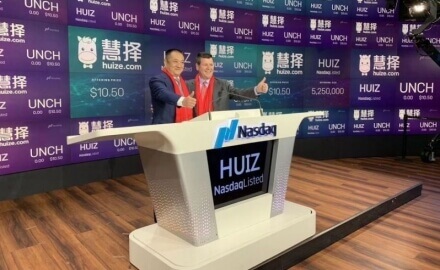 Shenzhen-based Huize Holding (Huize), an online intermediary, has announced a 40.6% growth in total gross written premiums (GWP) to Rmb579.9 million (US$83.7 million) for the first quarter of 2020.
The Q1 results follow Huize's Nasdaq IPO in February, completed to the tune of US$55 milllion.
Cunjun Ma, chief executive, founder and chairman of Huize, commented: "Going forward, we remain optimistic about the development prospects for the entire insurance industry in China over the long-term." Ma added that he expects life and health demand to certainly increase during and post Covid-19.
Long-term life and health policies were the major driver of this jump. L&H products made up over 93% of Huize's GWP — in comparison to 86% during the same period in 2019.
For Q1, the digital player's total operating revenue fell by 1.1% to Rmb248.7 million (US$34.8 million), attributed to a decrease in brokerage income.
Huize is forecasting an even greater fall in operating revenue for the next quarter, ranging from Rmb210 million (US$29.4 million) to Rmb230 million (US$32.2 million).
All these signs point to the specific impacts of Covid-19 — which has disrupted broker and agent sales due to a decline in face-to-face meetings. It has also generally driven up digital inquiries and sales as people worldwide are locked down and rethinking life and health coverage in the face of a pandemic.
For instance, Ping An in February noted that the sales of its 1.1 million agents countrywide had been affected due to the virus. "We, as well as the rest of the industry, are trying to accelerate the transition to work in a new model whereby the agents are unable the visit the customers and yet you able to maintain your business," co-chief executive Jessica Tan told Reuters at the time.
Covid-19 however bolstered a significant upswing in Ping An's online health services. Its mobile application Good Doctor saw a tenfold increase in sign-ups for health consultations.
Huize was founded in 2014 and targets young Chinese consumers. Its online platform offers around 850 P&C products and 200 L&H, including critical illnes coverage.
They have served 5.8 million clients and hold 67 partnerships with insurers in China. Since the outbreak of the virus, Huize says that the number of clients signed up has reached over 53 million.