Can a supercomputer forecast India's monsoon?
June 10 2016 by Nick Ferguson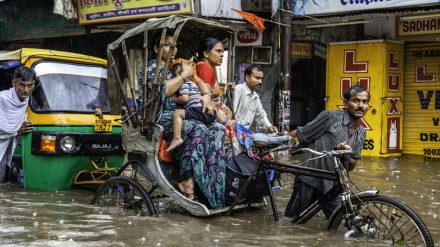 Back in November, the people of Chennai prayed for the rain to stop, as the heaviest downpour in more than a century caused the Adyar river to burst its banks, leading to more than 200 deaths and causing over US$2 billion of economic damage. Yet four months later they were praying for rain, as the blazing heat led to drought and rationing of water supplies across Tamil Nadu.
In response to such extreme events, India is now hoping that better predictions of the annual monsoon rains will help to alleviate such risks — and it is investing US$60 million in a supercomputer to improve the accuracy of such forecasts, according to Reuters. The Indian Meteorological Department will adopt a US computer system that can generate three-dimensional models of how the monsoon is likely to develop.
"If everything goes well, by 2017 we'll make this dynamical model operational by replacing the statistical model," said Madhavan Rajeevan, lead scientist in the earth sciences ministry in New Delhi.
Urban areas in India are increasingly vulnerable to flash flooding as economic growth attracts more people to live in its cities. Accompanying this growth has been an expansion in the value of public and private infrastructure, as well as growing car ownership, all of which has increased the level of risk — both insured and uninsured.
November's heavy monsoon rains in the southern states of Tamil Nadu and Andhra Pradesh, which caused insured losses US$800 million, were the second-costliest insurance event in India, according to Swiss Re's Sigma database. A large part of the losses originated from commercial lines as Chennai is home to several manufacturing companies, particularly in the motor industry.
Predicting the monsoon is notoriously difficult. Indian meteorologists have been working with Skymet, a private Indian company, to provide nationwide forecasts, but the lack of granular data has limited the usefulness of this work. For example, the monsoon in 2015 was weaker than average for India as a whole, but even if Skymet had accurately predicted this (it didn't), the reality in Tamil Nadu was quite different.
The new system is intended to provide more useful information. "We want to make meteorological predictions much more accurate," said Laxman Singh Rathore, director general of IMD. "Climate is a big concern and we want to start looking at more regions and do a lot of research and develop more models to understand weather conditions better."
Even so, while knowing when the monsoon is coming and how strong it will be may help farmers to sow their fields at the optimum time, it will not prevent flooding in cities.
Risk analysis and research company Verisk Maplecroft warns that more than 1 billion people across India, 82% of the country's population, are acutely exposed to at least one type of natural hazard and live in areas considered to have insufficient resources to cope with and rebound from an extreme event. Flooding is the most common type of disaster in India, with about 7,500 square kilometres flooding annually.
The government, says Verisk, has struggled to translate record levels of economic growth into improved resilience against natural hazards, leaving investors open to disruption to economic outputs, risks to business continuity and threats to human capital. The rapidly growing tech hubs of Kolkata and Delhi are among the most exposed cities in the world.
More data is certainly a good thing, but investment in flood defences and urban planning, for example, are also crucial to building resilience, alongside a more sophisticated approach to risk transfer through insurance markets.