Building resilience for a changing climate: SIRC 2019 panel
October 31 2019 by Andrew Tjaardstra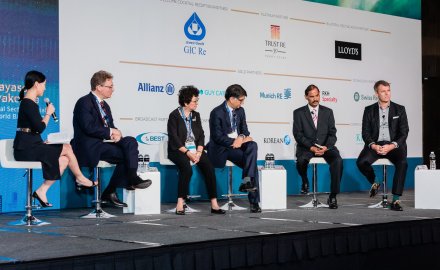 In a panel discussion on sustainability on October 30 at the SIRC, a high level forum reflected on greater efforts to provide resilience in the region and acknowledged the powerful threats from climate change.
Rowan Douglas, chief executive, capital, science and policy at Willis Towers Watson, commented: "When I entered Lloyd's in 1992, the market was on its knees with the likes of Hurricane Andrew causing great concern. It went through a revolution with the market going from relative ruin to relative resilience."
He added: "Investors in the early nineties became smart to climate risks – or nat cat capital as it was called. And cat modeling firms brought together engineering: probability curves and stress tests; actuarial science and inserted geography. Developing the tolerance of an insurance contract was also an important step."
Asean has recently been bolstered by the creation of the South East Asia Disaster Risk Insurance Facility (Seadrif).
Hauw Soo Hoon, director of the Seadrif, explained: "Seadrif wants to close the protection gap and the Asean countries want to come together and not have their fiscal budget disrupted and create certainty of financing. The World Bank is a strong partner and we believe in the public, private partnership. Our first product is for flood protection is for Laos and Myanmar which should be available early next year."
Commenting on Allianz's commitments to the UN's climate change goals in 2015, Amer Ahmed, chief executive, Allianz Re said: "We are divesting from coal related investments over the next 20 years. We withdrew insuring all new coal mines and from 2040 we will stop insuring anything related to coal."
He added: "We want to provide clean and affordable energy and are helping develop numerous microinsurance scheme across the world. The market has a duty to provide security and resilience in our communities."
Another supporter of the market and vulnerable countries has been the World Bank.
Vijayaseakar Kalavakonda, senior financial sector specialist, International Finance Corporation, World Bank Group, said: "The World Bank will always be looking at mechanisms to support investment and infrastructure opportunities. An increased number of disasters are linked to climate change and the biggest impact is on the most vulnerable communities."
He continued: "We want to work with insurers, not just reinsurers, as partners and want to onboard more firms – a major challenge for us –  to help develop solutions. We will also look beyond agriculture."