Broker break-up
March 8 2019 by Nick Ferguson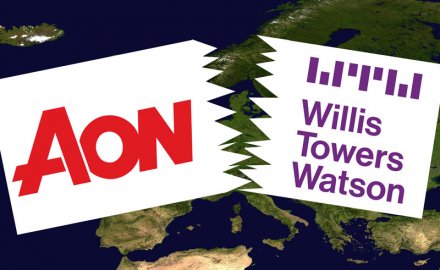 No sooner than news broke of Aon pursuing a merger with Willis Towers Watson, the deal was off. While Aon has dangled the possibility that it might change its mind, it probably shouldn't.
It is not clear that combining the two companies — the world's second and third biggest insurance brokers — would yield much for either company or their shareholders. Both companies have a similar business profile, focusing on risk advisory, broking, reinsurance, employee benefits and consultancy, and they compete directly with each other in most markets.
In Asia, for example, they have a similar footprint. Aon earns around 11% of its overall revenues in Asia, while Willis Towers Watson earns around 16% in the region.
However, a merger would provide some opportunities to cut costs. This was one of the motivations for Willis's US$8.9 billion acquisition of Towers Watson in 2016. By the end of last year it had raised its cost savings goal from the deal to US$175 million or about 2% of revenues — and it had cut its tax bill to below 25% thanks to Willis's Irish tax domicile.
Cutting costs equivalent to 2% of the companies' combined revenues might look attractive. Aon's 2018 revenue was US$10.8 billion, while Willis Towers Watson's was US$8.5 billion, meaning a 2% saving on the combined revenues would be worth US$390 million. And it is clear that Aon is keen to reduce costs, having launched a significant restructuring in 2017 that has seen it cut more than 4,000 jobs and achieve annual cost savings of about US$450 million by the end of 2019.
A merger with Willis would probably allow for further staff cuts and savings from rationalisation of IT and real estate, but is there a huge gain to be made here after the costs of the merger? Probably not. Aon is almost twice the size of Willis in terms of market capitalisation and would almost certainly have to pay a premium to absorb its smaller rival.
An Aon-Willis merger would not produce much in the way of tax benefits either. After all, Aon moved its headquarters from Chicago to London in 2012 to lower its tax burden and has paid an average of just 14% in income tax during the past three years, so the combination with Willis wouldn't have a significant tax effect.
Shareholders certainly didn't seem excited by the potential. Aon's share price lost almost 10% from the start of the week to the low point on Wednesday afternoon — or almost US$4 billion in market capitalisation. Even after a recovery following the cancellation, the company was still worth about US$2 billion less on Thursday than at the start of week, perhaps because Aon left open the possibility of reversing its decision in its statement, saying that it "reserves the right within the next 12 months to set aside this announcement where so permitted".
One thing the deal would almost certainly achieve would be to make Aon-Willis the world's biggest broking company given Marsh & McLennan's total revenue of US$15 billion (soon to be bolstered after the acquisition of JLT, which had US$1.85 billion of revenue).
Aon may have stepped away from the deal for now, but few would be surprised if it is resurrected at some point.