Peak Re acquires Bermuda ILS player Lutece Holdings
April 8 2020 by Andrew Tjaardstra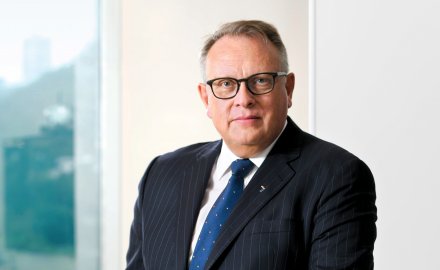 Peak Re has agreed to acquire 100% of Lutece Holdings and its subsidiary Lutece Investment Management for an undisclosed sum.
Lutece is a Bermuda based ILS asset manager founded in 2017 by Erik Manning and Angus Ayliffe, each with decades of experience in reinsurance and ILS; it also has an underwriting team.
Lutece has a focus on retro and under Peak Re's ownership will expand into other areas of the ILS market. Lutece Investment Management will be renamed Peak Capital and will become a fully owned subsidiary of Peak Re.
Peak Re's chief executive Franz Josef Hahn (pictured) has long been an advocate to increase ILS participation in Hong Kong.
He told InsuranceAsia News: "This deal allows us to build our in-house capital market capabilities – such as bond structuring and fund management – as well as the ability to offer our clients cat bonds. The team in Bermuda will be able to work closely with our P&C team, actuaries and cat modellers in Hong Kong. The [ILS] class is not correlated to other investment classes and provides diversification, albeit as a higher risk."
He continued: "Asia needs more cat cover – including reinsurance solutions – with risk accumulations growing year by year – especially as the effects from global warming intensify."
Hahn added: "We also see this as an opportunity to help bring ILS capabilities and capital raising to Asia and in particular to Hong Kong as the SAR positions itself to help raise capital from the likes of China, Hong Kong and Japan."
In 2018, the Hong Kong-headquartered reinsurer launched Asia's first reinsurance sidecar transaction, Lion Rock Re, which was then upsized to US$77 million – in Lion Rock Re II –  from US$75 million at the end of 2019.
Erik Manning, chief executive of Lutece, commented: "Peak Re's analytical-underwriting model is very much in keeping with the culture of Lutece, and with that foundation we are looking forward to helping to expand Peak Re's ILS footprint."
The transaction is subject to regulatory procedures and is expected to close in the next few weeks.
In February, Hahn noted that the reinsurance business landscape has been challenging for a few years in Asia – particularly in terms of adequate pricing and return on equity (ROE), which has been on the decline for seven to eight years. In addition the loss impact of natural catastrophes has impacted Asia on an outsized scale.
Hahn said: "Risk on a global and Asia Pacific basis is not adequately priced, for a reasonable return on equity. The costs of capital have been underperforming over the last 12 quarters – this is unprecedented and we must change this situation."