Babylon's US$100m AI doctor
August 10 2018 by Nick Ferguson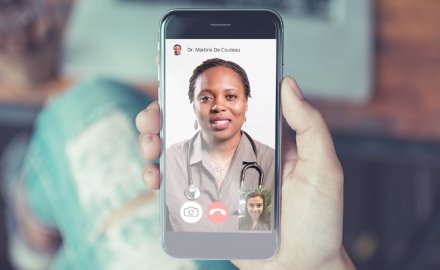 British health chatbot Babylon has reportedly secured a US$100 million multi-year licensing deal with Prudential Asia.
The figure, reported by Forbes, will allow Pru to give new and existing customers in 12 Asian markets exclusive 24/7 access to Babylon's artificial intelligence technology, which claims to be able to provide medical diagnoses and treatment recommendations that are on par with human doctors.
Using natural language processing and an inference engine, Babylon can understand patients' symptoms and then accesses a medical knowledge database to advise patients on whether they need to see a doctor, call an ambulance or stop worrying.
"By empowering customers with self-help tools and real-time health information, we believe the Babylon-enabled platform will inspire them to take an active role in understanding and managing their current and future health needs," said Nic Nicandrou, chief executive of Prudential Asia. "Prudential remains committed to help both consumers and governments find efficient solutions to expand access to quality healthcare across Asia."
Under the deal, the Babylon software will be integrated into a health app that Prudential will launch later this year. In addition to the chatbot, the app will offer a health assessment based on a series of questions, which will tell patients if they are at risk for various diseases or conditions.
For Babylon, the deal represents another significant step in its expansion into Asia, where it has already signed a deal with Tencent. It has also licensed its technology to Samsung's smartphone unit, allowing users to check symptoms and book video consultations for an annual or one-off fee.
The company certainly has big ambitions and is in the early stages of demonstrating its ability to provide value in both developed and developing markets. In the UK, for example, it has a partnership with the government's National Health Service to provide a virtual doctor and online medical consultation service, while in Rwanda the Bill and Melinda Gates Foundation is funding its provision to the entire population.
Unlike its UK service, the Babylon-Pru offering will not include remote consultations, which is more in line with the company's core product development philosophy.
"Basic telemedicine doesn't address the fact that a doctor on the phone costs the same as a doctor inside the surgery," said Ali Parsa, founder and CEO of Babylon Health, in a video interview with Forbes. "So what we do is create artificial intelligence that is on par with the ability of doctors to tell you what's wrong with you and what's the treatment for you."
Rather than providing booking software for video consultations, Parsa is confident that his chatbot can provide genuine frontline medical services that free human doctors to focus on the services that robots cannot provide, such as managing more complex conditions. That is a potentially useful service in countries such as China and other parts of Asia, where there is a chronic shortage of doctors.
But Pru is hoping the service will help it to drive new business. The chatbot will apparently be made available to the entire population of its 12 Asian markets (Cambodia, China, Hong Kong, India, Indonesia, Laos, Malaysia, the Philippines, Singapore, Taiwan, Thailand and Vietnam), in the hope that engagement with Babylon will encourage users to buy a health insurance policy from the Pru.
Of course, there is also a potential claim-reduction opportunity for Pru if the software can provide earlier diagnoses for its existing customers or reassure them that a doctor visit is unnecessary.
There have been some questions in the UK about the quality of the advice dispensed by Babylon and whether it is really ready to be let loose on the public. Knowing whether a patient presenting with chest pain needs to call an ambulance, book an appointment with a doctor or take an antacid can be a difficult judgment call for an algorithm — and not everyone is convinced that AI is yet sophisticated enough to make those decisions.
But Parsa is nothing if not bullish on the ability of his software to compete with human doctors. And, he points out, Babylon is getting better all the time. Deploying the app to millions of users in Asia should help to significantly improve the software's capabilities.
An app may never match the bedside manner of a doctor, but the ability to reach people in every corner of the planet, reduce the need for face-to-face visits in hospitals and clinics, and diagnose conditions early could nevertheless help to make health insurance more affordable and more widely available. If it works.