Australia's Westpac Bank mulling life business sale
May 5 2020 by Yvonne Lau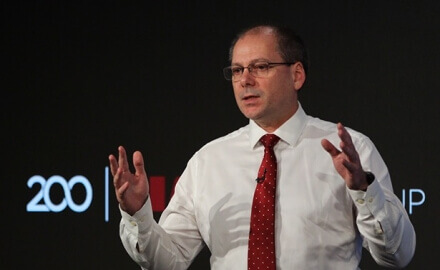 Scandal-hit Westpac Banking Corporation (Westpac) has announced strategic review plans – a refocus on their core banking business and risk management measures – which could see them offloading its life insurance arm amongst other assets.
Westpac chief executive Peter King said the bank will be "considering whether [certain units] would ultimately be more successful under different ownership. Over the coming months we will review the best options for these businesses."
King (pictured) explained: "We have several businesses where we don't have sufficient scale or where the returns are insufficient for the risk. These include – general and life insurance, wealth platforms, auto finance and superannuation and retirement products."
The bank's life insurance arm for the first-half to March 2020 saw an earnings hit of A$19 million (US$12.1 million), in significant contrast to its previous year's earnings of A$77 million (US$49.1 million).
Phil Hay, former chief executive of Westpac's life insurance business, recently joined Pacific Life Re as head of Korea.
First-half dividends, which were to be paid out in June this year, have also been suspended due to uncertainties caused by Covid-19. Westpac will continue to review dividend options throughout the year.
"This is the most difficult result Westpac has seen in many years. It is significantly impacted by higher impairment charges due to Covid-19, as well as notable items including the Austrac provision," said King. Westpac's first-half financial results showed a 70% profit drop to A$993 million (US$634.2 million). They saw an A$1.6 billion (US$1.02 billion) hit from the coronavirus, and an A$900 million (US$574.9 million) penalty from its 2019 scandal.
King's forecast for a quick recovery looks gloomy — the executive highlighted the drastic drop in consumer and business confidence, and warned that a "sustained recovery" may not materialise until December of this year – or even into 2021.
As for the bank, these fiscal uncertainties and difficulties may add to more turbulent times ahead. Westpac has been attempting to bounce back after a year of controversy in 2019. Last year saw Brian Hartzer and Lindsay Maxsted ousted as chief executive and chairman of Westpac, respectively; in addition to regulator Austrac launching a lawsuit against the bank, which outlined 23 million allegations of breaches — some related to money laundering and the facilitation of payments for child exploitation.
Impairment charges from the lawsuit have now shot up to A$2.4 billion (US$1.53 billion) for the bank.
Westpac's medium-term priorities, noted by King back in April, are to "drive performance, [sharpen] accountability, simplify the business through digital transformation and [uplift] risk management capability."