Australia's unprecedented bushfires
November 18 2019 by Andrew Tjaardstra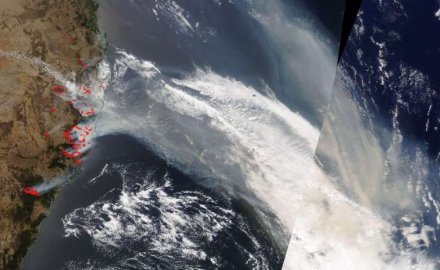 While Australia has a long history of bushfires, the descriptions of more recent ones – particularly those starting so early in the season – are becoming worryingly familiar.
Over one million hectares of land have burned in New South Wales with the fires easily visible from space. In Queensland, Paul Antonio, the mayor of Toowoomba, said the region had never seen fires like the one fire crews were battling; altogether there are 80 fires in the state.
The sentiment is echoed by Chris Dougherty, general manager, at Grafton-based Westlawn Insurance Brokers and a member of the Steadfast network, who told InsuranceAsia News: "These are the worst fires we have seen. Half a dozen of our clients have experienced total losses to their homes – there are two fire fronts around 20km to the south west and north west of where we are in Grafton and around 40 houses in total have been destroyed."
According to the Insurance Council of Australia as of noon today insurers have received 1,000 claims for estimated total loss of A$110 million (US$75 million); this tally is likely to grow over the next days, weeks and months.
Dougherty explained some of the costs for the market: "Insurers offer emergency funds of up to A$10,000 (US$6,800) and alternative accommodation for an initial four weeks. This can last for up to 12 months while the homeowner either decides to rebuild or relocate."
Often the homeowner wants to return to the land as they own it and understand the risks of living there in the first place.
He added: "Some rural businesses have been affected by the fires and there is coverage available for business interruption from bushfires. Although not as serious as before, the fires are still burning and there is the potential to see more losses, however to the best of our knowledge all of our clients are safe."
In response, QBE has allocated A$100,000 (US$68,000) from its new disaster relief and climate resilience fund will be allocated to support the Australian Red Cross' bushfire relief and recovery efforts.
The Australian Red Cross, also a partner of Insurance Australia Group, supports evacuation centres and provides reunification and psychological support to help impacted communities.
Climate risk
While some powerful politicians may place their heads in the sand, it is taken for granted among experts that climate change is making fire seasons worsen.
At a recent meeting in Sydney last week of former fire chiefs, Greg Mullins, former chief of New South Wales Fire and Rescue said: "Just a [one degree centrigade] temperature rise has meant the extremes are far more extreme, and it is placing lives at risk, including firefighters. Climate change has supercharged the bushfire problem."
A report by IAG and the US National Center for Atmospheric Research (NCAR) found that Australia's so called "angry summer" of 2012/13 is far more likely to happen in a warmer world with a 57% chance of happening if temperatures go to 1.5 degrees centigrade above the pre-industrial world average – compared with 44% today; the risk climbs to 77% in a so called two degrees centigrade world.
Mark Leplastrier, executive manager of natural perils at IAG, has warned: "The annual economic cost of natural disasters [is] predicted to hit A$39 billion (US$27 billion) by 2050." He said more investment is needed including infrastructure capabilities, adequate land planning and building codes.
The government, firefighters, local councils and insurance market players need to reassess how they plan for fire seasons and what a warming world means for the risks ahead.
All this is happening in Australia before summer even begins; insurers, brokers, adjusters and reinsurers can expect plenty of work ahead but spare a thought for the firefighters on the front line.