Australia's construction market threatened by PI retreat
June 26 2019 by InsuranceAsia News Staff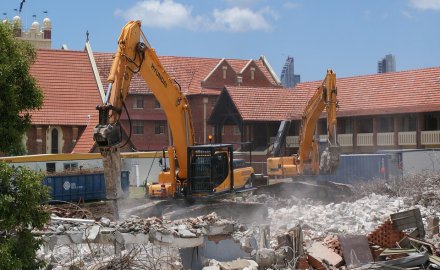 The Australian Institute of Building Surveyors (AIBS) has warned there is a possibility that, without government intervention by July 2, a prominent professional indemnity premium renewal date, many private building surveyors may be forced out of work hitting the country's construction industry.
Insurers have been avoiding the market after poor fire safety designs and the use of flammable cladding materials. Recently residents were evacuated from a block of flats in Sydney called Mascot Towers which has seen cracking in the building; the building appears to be moving in a downward spiral.
As a result, building surveyors in New South Wales, Queensland and Victoria who are unable to obtain an exclusion free PI policy will not meet requirements for registration in those states.
The AIBS is aware there are hundreds of building surveyors across these jurisdictions whose registration is due for renewal in the following months and, if the PI insurance situation remains unchanged, these building surveyors will not be able to be registered. If this occurs, it is likely building projects they are working on will come to a standstill.
The issue intensified 12 months ago, and a crisis was only narrowly averted when new PI insurance providers were sourced to offer exclusion-free policies. However, they too have left the market and since last June.
Victoria's premier Daniel Andrews has called on the federal government to step in to help, to avoid shutdowns in a construction industry already hit by the nation's property downturn.
In a communique to its members, the institute said that almost no insurers were willing to offer coverage to surveyors in Victoria because of issues around cladding. It meant most surveyors stood to lose everything in the event of one of their buildings catching on fire or needing significant repairs.
Brett Mace, chief executive of the AIBS, commented: "If there are no insurance policies without cladding exclusions, who is going to undertake the rectification of buildings identified by the respective cladding task-forces across the country or any other building with external cladding?".
The Insurance Council of Australia has issued a statement saying all states and territories must accept and urgently implement all 24 recommendations in the Shergold-Weir Building Confidence report, which revealed significant systemic deficiencies within the building industry and with compliance and regulation.
ICA's general manager risk and disaster planning Karl Sullivan said the state-by-state approach to solving building industry issues was too disjointed and inefficient.
"The building certification regime in many jurisdictions is flawed," he said. "This is a national issue and requires national consistency, which is the public position the Insurance Council took when cladding issues arose following the Grenfell Tower tragedy."