Australia's brokers target Asia
May 20 2020 by Andrew Tjaardstra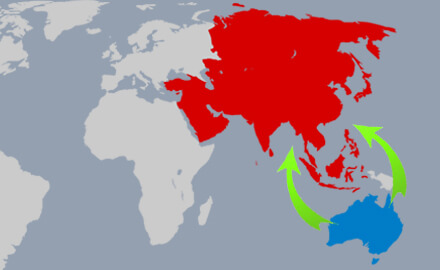 There has been growing interest from Australia's brokers in their Asian counterparts over the last 18 months.
The only surprise is that there hasn't been more interest over the years as Australian firms have long had an advantage over their US or UK counterparts when considering the more beneficial time zones, travel times and deep trading synergies. Yet, US and UK companies have dominated.
PSC Insurance Group
Australia's PSC Insurance Group (PSC) this year moved ahead with its Asia expansion through the acquisition of two Hong Kong-based brokers Charter Gilman and Globe Insurance; both are commercial P&C brokers based in North Point on Hong Kong Island.
"PSC believes the Asian market presents an outstanding long-term opportunity for the company." Brian Austin, PSC Insurance Group

The total transaction value is A$3 million (US$2 million) and PSC now holds 50% of Charter Gilman's share capital – which, including its A$1.01 million (US$670,300) stake it purchased in 2019; the 100% completion of the deal should go ahead in the next few weeks while the acquisition of Globe was conducted via Charter Gilman.
Globe employs between five and 10 employees while Charter Gilman over 20. InsuranceAsia News understands the two offices are set to move into new premises in the next few months with possible bolt-on deals on the agenda.
Its initial foray into Hong Kong will be a springboard to help the company test out opportunities in Asia. Hong Kong's brokers have been suffering from the double whammy of the protests and Covid-19. However, the long-term strategic positioning and importance of Hong Kong to the Greater Bay Area – set to be in the top 10 largest economic zones in the world – means overseas acquirers taking a long-term view should benefit – even if violent protests return to the city this summer.
In addition stronger regulation through the Insurance Authority should provide more confidence.
PSC's chairman Brian Austin commented to shareholders on March 31: "PSC believes the Asian market presents an outstanding long-term opportunity for the company. These acquisitions provide an opportunity to enter this market via Hong Kong through existing known businesses."
Austin added: "While the investment by PSC to acquire these businesses is modest at approximately A$3 million (US$2 million), with the expectation of further modest investments of similar total values in the short to medium term to build scale, the company believes this can form a foundation of a business unit that can provide a sound contribution to group results."
At an April shareholders meeting, the acquisition of broking firm Globe Insurance was also approved – the deal will be conducted via Charter Gilman as PSC takes full control of the company.
PSC has also been expanding heavily in the UK market and its next cash instalment for the acquisition of Paragon (and others) is set to be at least A$35 million (US$23 million).
Honan deal
Global private equity player TA Associates, which has an office in Hong Kong, is investing in another Australian broker with its eye on Asia expansion.
Melbourne-headquartered Honan has already been in Asia for over five years and 21 employees at its Singapore office, in One Raffles Place, and a further 29 staff in Malaysia.
The Singapore office is an amalgamation of the acquisition of MACS Insurance Brokers in 2015 and the purchase of NGA Benefits in 2017.
Honan's Asia operation is overseen by managing director Eliza White who joined last year from Starr Insurance – originally in a new role as Asia director of operations.
Showing its regional ambition, in December, Honan and Malaysia's MP Insurance Brokers teamed up to form new joint venture (JV) MP Honan Insurance Brokers. MP Insurance Brokers will hold a 51% stake and Honan Insurance a 49% stake in the JV. Saw Kheng Lay, chief executive of Kuala Lumpur-headquartered MP Insurance Brokers, is leading the new company as its chief executive.
The undisclosed TA deal is in the regulatory stages and both Honan and TA are declining to comment further on future plans at this stage – but it is clear that Asia will be part of the strategic expansion.
US and UK rivals
Australian firms might be benefiting from Marsh's acquisition of JLT as JLT was a regular buyer in the Asia broking space. The focus at the broker appears (at the moment) to be more on integration in Asia rather than purchases.
Aon and Willis Towers Watson will also be preoccupied with their complex merger which involves an array of entities across the region.
Acquisitive private US giant Gallagher's has made significant inroads in the Australian market but has been far less interested in Asia so far, while London-headquartered Ed Broking essentially pulled out of Hong Kong by transferring its operation to local player Grandwood Insurance Brokers. However, Ed still maintains a strong presence in Singapore with smaller offices in Beijing and Shanghai.
UK's Hyperion, led by charismatic group chief executive and founder David Howden, is the most active in the region and has made a number of recent purchases. It already has strong footholds in Hong Kong, Malaysia, Singapore and Thailand – and the financial firepower to take things further.
As P&C insurance becomes more prevalent across the region, expect more Asia acquisition activity from Australia's brokers over the next 18 months.