Australia's bushfire commission commences
May 27 2020 by Yvonne Lau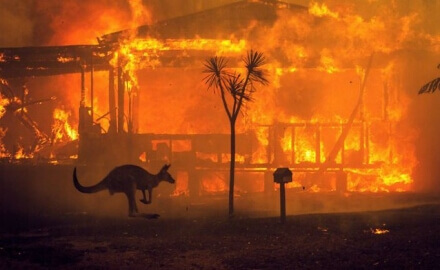 The first round of hearings hosted by Australia's Royal Commission into National Natural Disaster Arrangements (Bushfire Royal Commission) have started in Canberra this week.
After Australia's devastating bushfire season which began last year, the government launched the Bushfire Royal Commission to analyse the country's preparedness, response and recovery from natural disasters. It will gather input from public submissions and hearings.
This first round of hearings will be a two-week discussion between the government committee and other members — from academia, the private sector, and more.
Retired air chief marshal Mark Binskin, the chair of the commission, said at the opening session: "At the outset, we reaffirm our recognition of the profound impact of natural disasters, in particular the 2019 to 2020 bushfire season have had on our nation."
Karl Braganza, head of climate monitoring at Australia's Bureau of Meteorology's National Climate Centre, explained that Australia is unique in that "large swathes of the country move from very wet to very dry conditions periodically." It is these "decadal shifts" in the Australian climate that impacts the "frequency and severity of heatwaves and droughts, tropical cyclones and heavy rainfalls."
In the next two to three decades, the global climate ecosystem is set to consistently warm in response to already-existing greenhouse gases in the atmosphere. As for predictions ahead, while Braganza noted that the "trends probably load the dice towards worse fire seasons in general… but it's very difficult to predict climate more than nine months to a year in advance."
Mark Leplastrier, executive manager of natural perils at major insurer IAG, added recommendations on examining bushfire risk. He commented: "The risk modelling framework… it's not quite as mature in how we would look at the risk. There are bushfire risk models out there… are not necessarily both used for underpinning say, land planning requirements as well as say, insurance risk assessment."
Despite Covid-19, carbon emissions are still on the increase and are likely to be for years to come.
Helen Cleugh, chief research scientist at Australia's Commonwealth Scientific and Industrial Research Organisation, highlighted: "The key message here is that Australia will continue to warm substantially and that is a very high confidence statement."
Meanwhile, Insurance Council of Australia's incoming chief executive Andrew Hall, recently said that general insurance will be crucial for the economy in recovering from the most recent bushfire season and the Covid-19 pandemic.
The bushfire Royal Commission's first round of hearings will wrap up on June 5 and a final report will be issued in August. Other insurers will feature over the next few weeks.