Asia's product recall problem
December 8 2017 by Nick Ferguson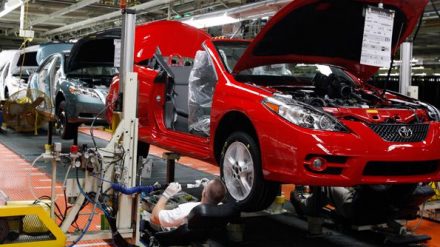 The outsourcing of global manufacturing to Asia, and China in particular, has lowered the cost of products — but also the quality. Roughly a quarter of all goods sold in the US in 2014 were made in China, but they represented 51% of all product safety recalls, according to the US-China Economic and Security Review Commission.
In some sectors, Chinese-made goods have become ubiquitous. China's share of US toy recalls, for example, rose from 10% in 1988 to 98% in 2007. In 2015, China accounted for 2,124 product recall cases in the US, compared with 685 from US companies. The country also accounted for 62% of the product safety alerts issued by the EU in 2015.
"There is a clear link between product recall claims and the shift in manufacturing to Asia and China. Product quality management levels in Asia are improving but they are not yet up with the levels seen in the US and Europe," says Christof Bentele, head of global crisis management, Allianz Global Corporate & Specialty (AGCS), which has published a new report on the subject.
Even so, Asia is still a relatively small market for product recall insurance. Asian companies have typically only bought product recall insurance for exports to the US and Europe, but that is starting to change as product safety regulation and consumer expectations are rising, according to Bentele.
"More and more Asian companies realise that buying product recall insurance makes sense, even when they only operate domestically," he says. "It is hard for any company to survive in a market with a bad or faulty product. That is as true for Asia as anywhere else."
Overall, AGCS found that defective product or work is the major cause of recall claims, followed by product contamination. The average cost of a significant incident is in excess of US$12 million, with the costs from the largest events far exceeding this total. More than 50% of losses arose from just 10 incidents. The automotive industry is the most affected, followed by food and beverage, and electronics.
However, in the age of social media, 24/7 news channels and class-action law suits, there is also a risk that minor issues can blow up into major multi-billion dollar recalls.
"Social media is a real game-changer for product recall," says Stewart Eaton, head of product recall in the UK for AGCS. "An erroneous post or tweet can cause reputational damage and directly impact the size of a recall, meaning companies need to react faster than before."
Toyota, for example, incurred a US$3 billion cost from a supposedly faulty accelerator pedal recalled in 2009, but studies suggest that the problem was most likely caused by drivers (who were mostly elderly or inexperienced) stepping on the wrong pedal. As Malcolm Gladwell reported in his podcast, Revisionist History, hitting the brake will successfully stop a car even if the throttle is fully engaged, but in most cases the brake was never applied. In fact, complaints about sudden acceleration are common across all manufacturers, probably for the same reason, but once a story gets rolling and plaintiffs' lawyers sense an opportunity, it can be difficult to reverse course.
While phantom defects such as this can be a problem for individual companies, real manufacturing issues can have widespread problems across an industry due to the way supply chains work in today's economy. Takata's defective airbags, for example, are expected to result in some 60 to 70 million units across at least 19 manufacturers being recalled worldwide, while costs have been estimated at close to US$25 billion.
Another problem area includes mislabelling of food, with undeclared allergens a growing cause of recalls.
Cyber recalls may also become an increasing reality. AGCS says hackers could change or contaminate a product by controlling machinery in automated production plants. Innovative but untested technologies such as artificial intelligence and nanotechnology could also transform recall risk.
Product recall insurance covers the costs of a recall, including business interruption, and also provides access to crisis management services and consultants, which can test a company's procedures and offer global support in areas such as regulatory liaison, communications, product traceability and tampering investigations and even genome sequencing and DNA testing to understand a product contamination.
"A company that embraces crisis management, and makes it part of its DNA, is far less likely to suffer a major incidence," says Bentele.