Asian protection gap is world's biggest
November 30 2018 by Nick Ferguson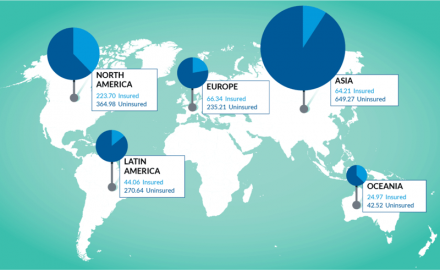 After a series of natural catastrophes in Asia this year, concerns about the region's protection gap are bigger than ever.
Across the region, the percentage of economic loss from natural disasters that is insured stands at just 9%, according to AIR Worldwide's latest report on global modelled catastrophe losses, reflecting Asia's worryingly low insurance penetration.
That is the lowest figure of any region in the world. In North America, for example, insured losses account for about 40% of the economic loss from natural disasters, while even in Latin America that figure is significantly higher than in Asia at 14%.
Such a stark level of underinsurance has added to the challenge insurers and reinsurers in the region face as they compete to build a profitable footprint, reinforced again this week by the news that CNA Hardy has decided to close its Singapore and Shanghai Lloyd's offices related to Syndicate 382.
This year, the region has experienced what AIR describes as a "relentless onslaught of natural catastrophes". Japan bore the brunt of them. The Takatsuki earthquake struck in June, followed by a severe flood in July, then a series of typhoons and the even stronger magnitude-6.6 Tomakomai earthquake in early September. But Japan is relatively well covered compared to most of the region.
It was a different story in Indonesia, which was struck by two major earthquakes, one of which caused a devastating tsunami. But it was Typhoon Mangkhut that most clearly demonstrated the difference between mature and under-developed insurance markets as it swept across the Philippines, mainland China, Hong Kong and Macau, causing an estimated US$1-2 billion insured loss. Most of the insured damage occurred in Hong Kong, where there were no fatalities, whereas in the Philippines at least 127 people were killed and 105,000 families evacuated from their homes.
"After a decade of below-average losses — apart from 2011 and 2017 — 2018 will reinforce the fact that preparing for large losses before they occur is critical to continued solvency and resilience," said Rob Newbold, executive vice-president of AIR.
AIR estimates that a once-in-100 year loss (or what it calls the 1% aggregate exceedance probability insured loss) from catastrophes in Asia would cost insurers US$64 billion, compared to an insured average annual loss of about US$10.4 billion.
With just 9% of the region's economic exposure covered, the model forecasts that a once-in-100 year loss could cause close to US$600 billion in uninsured losses, though that modelled estimate includes losses from non-insurable sources, such as infrastructure and lost economic productivity. Asia's insurable 1% aggregate exceedance probability loss is estimated to be US$444.3 billion.
"For the insurance industry, the protection gap can spur innovation in product development," said Newbold. "In the public sector, governments are recognising the importance of moving from reactive to proactive risk management, especially in countries where the risk is well known and a risk transfer system is not well established. Understanding the protection gap can help governments assess the risks to their citizens and critical infrastructure, and develop risk-informed emergency management, hazard mitigation and public risk-financing strategies to enhance global resilience and reduce the ultimate costs."
While there are several such measures and initiatives underway in Asia, there is clearly still a lot of work to be done to increase the level of insurance in the region.