Emerging Asia to lead world out of recession: Swiss Re Institute
May 20 2020 by Andrew Tjaardstra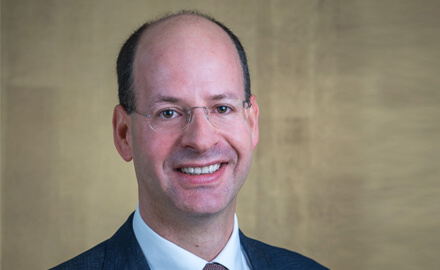 The world is expected to lose US$12 trillion of projected economic outlook as a result of Covid-19 over the next 24 months, according to the Swiss Re Institute.
This is the equivalent to the economic size of China or 17 Switzerlands.
Zurich-based Jérôme Jean Haegeli, group chief economist at Swiss Re, commented on a media webinar on May 19: "This year's recession could be one of the deepest and shortest on record. Yet, we shouldn't underestimate the longer-term economic implications. Paradigm shifts are also in focus."
Haegeli (pictured) described this year's recession as "like a car crash without air bags" and "not like anything we have ever seen before."
He warned policy makers: "We shouldn't make same mistake as in 2008/2009. We need to improve economic trend growth – not just more monetary stimulus and credit."
The global economy was less resilient because of high debt, negative interest rates in sovereign bonds and fiscal spending.
Because of the speed and rapid nature of the crisis, and an increased debt burden, this unfortunately makes a 'V-shape' recovery "illusionary". Haegeli argues the world needs a good framework for bad banks to remove non-performing loans, and to create private market solutions with supportive frameworks to inject liquidity.
The Swiss Re Institute believes China's economy will grow 3.2% in 2020, it is then forecast to grow 7% in 2021. The expectation for Singapore is minus 5% in 2020 and up 4.5% in 2021. Meanwhile, Hong Kong's economy is expected to contract 6.4% in 2020 before climbing 2.5% in 2021.
Asia will fare better than other regions in the world. Emerging Asia including China, Indonesia the Philippines and Vietnam are expected to perform better than advanced Asia.
A gradual recovery is underway in China with their daily productivity action tracker at 93%. It is well positioned for increased consumption and the digital economy. Haegeli added that there was no long term change to the trajectory that China would become the largest insurance market in the world in the 2030s.
China is going to have a more favourable property, engineering and liability market which will benefit from the recovery. Business interruption will be more valued, while life and health will see more rapid growth.
Taiwan and South Korea will see mild recessions meaning insurance demand will hold up relatively well. However, Hong Kong is being severely hampered by travel restrictions, a weak local economy and rising trade tensions between the US and China.
On the day China slapped harsh tariffs on Australia's barley, Haegeli added: "Globalisation has peaked – and there will be permanent changes in the supply chains."
MORE FROM: Capital Markets