Asia racks up H1 US$31bn nat cat bill: Aon
July 24 2020 by Yvonne Lau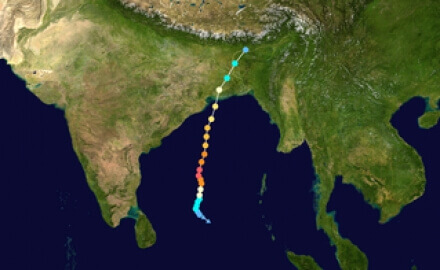 Asia Pacific has tallied a US$31 billion economic natural catastrophe bill for the first half of 2020, according to Aon's July Global Catastrophe Report.
Insured losses across the region was recorded at US$3 billion — 10% of the global total.
In terms of insured losses, the numbers stood at US$30 billion worldwide, 8% above average since 2000. However the majority of insured losses — 69% — was recorded in the United States; meaning Asia Pacific and other regions remain underinsured.
The greatest insured loss in Asia Pacific was Australia's January hailstorms — recording US$1.1 billion.
The two greatest loss drivers in the region were Cyclone Amphan, which affected India and Bangladesh; and China's ongoing country-wide floods.
Globally, total economic losses for H1 2020 stood at US$75 billion. The United States trailed just behind Asia, recording US$28 billion in losses; while Europe, Middle East and Africa (EMEA) and the Americas saw a US$10 billion and US$6 billion loss, respectively.
Aon notes these figures are preliminary and will climb as losses are still developing.
There were a total of 207 natural catastrophe events worldwide in H1 2020, with 74 events taking place in Asia.
Significantly, 20 'billion-dollar events' occurred during this time. The US saw the most, with ten events — followed by Asia Pacific with five events.
Again, the two greatest loss events took place in Asia.
Cyclone Amphan devastated India, Bangladesh and Sri Lanka in mid-May, incurring US$15 billion in direct economic losses. Most of the damage is expected to be uninsured.
The super cyclone prompted the Indian state to revisit the idea of establishing a nat cat insurance pool. 
Michael Lorinc, catastrophe analyst for Aon's Impact Forecasting Team, noted: "The vulnerabilities of infrastructure were amplified by [the cyclone's] widespread effects."
Lorinc added: "The storm brought extensive coastal and inland flooding, [and] hurricane-force wind gusts — which put a further spotlight on the need for future investments in modernising coastal barriers, embankments, and the electrical grid in storm-prone areas around the world."
Meanwhile, China's country-wide floods — its worst in 30 years — also topped Aon's list. The floods are ongoing and they began in mid-June, already racking up US$10 billion in economic losses and counting.
Flood risk is a recurring challenge for China — the country is still in search of the best system of coverage and risk mitigation. Currently, the state does most of the heavy lifting — but the involvement of (re)insurance has achieved great growth since 1998, noted Qin Lu, Aon's China chief executive, to InsuranceAsia News.
Worldwide, flooding was the deadliest natural peril says Aon — responsible for 60% of the death toll during this period.