Asia buoys insurance results
November 10 2017 by Nick Ferguson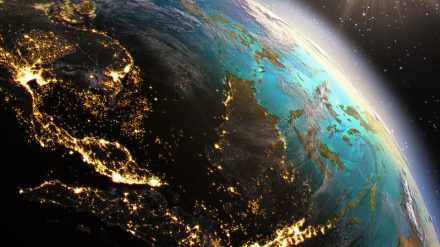 Insurers had a difficult third quarter with significant losses after the US hurricanes and earthquakes in Mexico, but improved performance in Asia has helped several companies to beat analysts' expectations.
Manulife's Asia business delivered a 15% increase in insurance sales in the third quarter and a 21% increase in new business, as well as a 2.1 percentage point margin increase on the new business sales.
"This performance reflects growth in most of our markets and across our bancassurance and agency channels," the company said in its earnings release. "We also continued to experience double-digit growth in gross flows from our wealth and asset management businesses, reflecting strong retail, retirement and institutional asset management flows."
The increased insurance sales were driven by strong growth in Singapore, mainland China and Vietnam, while gross wealth and asset management flows were up 45%, mainly driven by strong retail flows from money market funds in mainland China, increased retirement flows in Hong Kong and higher institutional asset management flows.
Fellow Canadian insurer Sun Life also reported strong wealth sales in Asia, with a 50% increase over the previous year, driven by continued growth in India and Philippines mutual funds.
Belgium's Ageas reported higher-than-expected growth, largely driven by Asian new business, with renewal premiums continuing to drive results across the region. Net insurance profit in the region was up 72% compared to the third quarter in 2016. China inflows were up 26% to €6.2 billion, Thailand up 11% €2.1 billion, Malaysia up 29% to €515 million and India up 26% to €178 million.
Asian insurer AIA posted 20% growth in the value of new business, principally driven by China, but helped along by broad-based growth across a number of different customer segments in Hong Kong, enhanced agent productivity and an increase in the number of active agents in Singapore, and increased sales of unit-linked business in Malaysia.
"Asia's economic progress has been driven by large populations entering the workforce, generating sharply rising incomes and creating a rapidly growing middle-class," said Ng Keng Hooi, AIA's group chief executive and president. "The compounding effect of this increasing affluence and shift in spending habits is leading to a step change in life insurance demand across the region."
HSBC reported that Asian insurance new business premiums were up 13%.
However, not all insurers have been supported by Asian earnings. For those that were late to the party, it has proven difficult to break into the region's high-growth markets.
"Over the past 12-18 months, we have been looking for opportunities to increase our investment in our key markets of Thailand, Malaysia and India," said IAG chief executive Peter Harmer to investors last week during the group's annual general meeting. "We have not been able to find the right circumstances, however, so it is unlikely we will make further investments in Asia in the short term."
IAG has invested about A$800 million in the region, but Asia earnings declined to A$10 million during the past financial year from A$26 million, amid increased competition in Thailand and Malaysia, and flood-related claim costs.
Clearly, Asia remains the world's most attractive insurance growth market, with penetration seriously lagging the developed markets. The region is home to 43% of the global population and 13% of its insurance spend, with annual growth of 7.1% across emerging Asia — compared to 5.8% in the next fastest-growing market of the Middle East and North Africa and just 1.4% in North America and Western Europe. China is already the world's third-biggest insurance market.
Turning this opportunity into profit has not always been easy, with a focus on commoditised products and auto in particular in many markets across the reason. Growing sales is good news, but as IAG demonstrates, finding profitable growth is still a challenge.