Allianz's Anusha Thavarajah on growth and risks in Asia
January 4 2022 by InsuranceAsia News Staff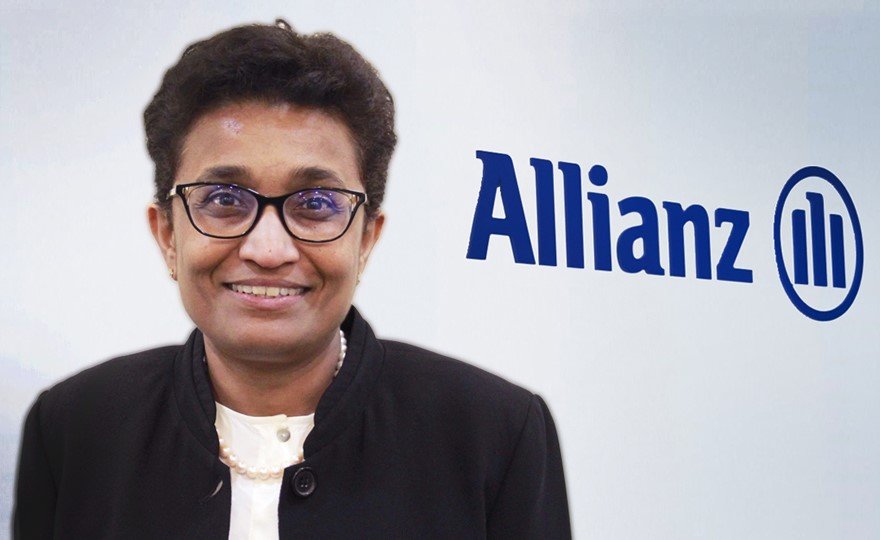 InsuranceAsia News (IAN) recently caught up with Anusha Thavarajah, Allianz Asia Pacific's regional chief executive, to discuss the 2022 market outlook.
Singapore-based Thavarajah, who was appointed to the role in November 2021 after leading the insurer's Asia life and health operations, shared her views on risks such as cybercrime and climate change, Asia's burgeoning growth opportunities and improving customer personalisation through digitalisation.
IAN: What are the most significant three risk factors you see in 2022 in Asia and why?
Thavarajah: The ongoing Covid-19 pandemic, especially the prolonged uncertainty in future variants, will continue to pose a risk, with the potential to impact sales and profitability. Meanwhile, the low interest rate environment will test the resilience of insurers, who will have to find ways to de-risk their balance sheets, while continuing to offer propositions that can perform reliably in the current landscape.
Changing regulatory requirements have always been a challenge and can add to existing compliance and cost burdens of insurers, potentially inhibiting market innovation. There is also an accelerated need to quickly adapt and address new risk factors, including climate change and infectious disease, as well as intangible risks such as cybercrime, intellectual property and digital assets. The limited data and experience on such risk pools presents a unique challenge to insurers to meet customer needs with agile and innovative solutions.
IAN: How do you see these risk factors impacting your business for underwriting, risk management and profitability? How are you planning to embrace those challenges?
Thavarajah: The risk factors above can have a significant impact on underwriting, risk management and profitability. We continue to prioritise risk management to minimise the impact of eroding margins on profitability. Our underwriters monitor trends closely with data and analytics, reviewing and scrutinising risks for industries and occupations most heavily hit by the pandemic, to respond to new customer risk profiles and spot fraudulent activities.
We reassessed our portfolios to determine appropriate investment strategies for the short, mid, and long term, strengthening our business model in terms of resilience to low interest rates, and enhancing our product offering to provide innovative guarantee.
We will continue to strengthen our capabilities in digitalisation and analytics by building a regional unified sales platform to create a superior customer experience. In addition, we will introduce innovative products and services to build a holistic health ecosystem to address health and insurance-related needs.
IAN: Which markets or business lines in Asia do you foresee to have the most significant growth in 2022?
Thavarajah: In 2021, we braved challenging market conditions and continued to deliver and build our business, outperforming market growth in Indonesia, Malaysia, Thailand, Taiwan, and the Philippines. As such, we remain aggressive in our growth targets for the entire Asia region.
We expect the protection business to be key and have significant growth in next couple of years, contributed by an increasing awareness on the importance of protection coverage post-Covid, as well as a widening protection gap.
In terms of further growth opportunities for Allianz, China remains an exciting market given its size. We are looking forward to build on our existing capabilities following our recent regulatory approval to become the first wholly foreign-owned life insurance company in China. In addition, we are also looking at significant growth in markets such as Philippines, Sri Lanka and Singapore where we are in a position to significantly scale up our business.
IAN: Which businesses or operation do you plan to digitise in 2022? And how will that help the businesses?
Thavarajah: Our priorities in digitalisation are centred around the three interconnected areas of distribution, customer health management, and customer experience, to improve advisor productivity, improve operational efficiency, and cultivate better customer engagement.
We also aim to enhance our distribution channels through equipping our financial advisers with better tools. We have already made significant progress in digitalisation efforts to streamline the sales process for the sales team and customers, and will take this further to provide a seamless experience by focusing on unification of applications and tools.
We will empower customers with more awareness, education, and engagement content to improve customer health management. The multitude of data points will also enable us to leverage data and analytics to enhance our offerings. We are constantly innovating to provide value-added services, focusing on personalised content and services to enhance the insurance journey across different touchpoints that appeal to contemporary customers.
Partner Content
Customers are responding positively to several key initiatives in the region.

Russell Higginbotham, Swiss Re's CEO Reinsurance Asia, discusses the impact of climate change for life and health (re)insurers in the region.