AIA Singapore promotes Wong Sze Keed to CEO
April 22 2020 by Yvonne Lau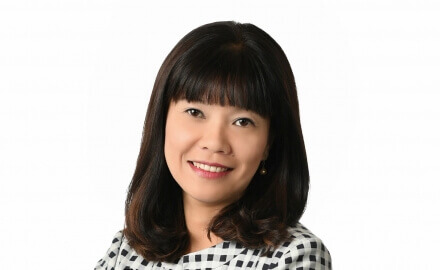 AIA Singapore has promoted Wong Sze Keed, chief distribution officer, to chief executive.
Starting the role on July 1, Wong (pictured) will report to AIA's regional chief executive Tan Hak Leh and succeed chief executive Patrick Teow. After seven years with AIA and 35 years in the life market, Teow will take a career break.
Tan commented: "[Wong] has deep experience of the Singaporean life insurance market and she has a superb track record of delivery and execution. I'm confident that under her leadership AIA Singapore will realise its full potential." 
Wong has almost three decades of experiences in Singapore's financial services market, including banking and the life market — she has held "a broad range of senior management roles during her career," says an official statement. She has been with AIA since 2013 and also served as chief partnership distribution officer for the company. Prior to AIG, Wong was with NTUC Income as vice president and head from 2011 to 2013.
During her tenure at AIA Singapore, Wong has developed the firm's agency business in the market and "achieved the highest number of MDRT registered members for a record fifth consecutive year." According to AIA's official website, as chief distribution officer, she leads the overall strategy of sales and distribution across all tied channels, and drives distribution implementation models aligned with the company's strategic growth initiatives.
AIA posted solid results for fiscal year 2019, but as Covid-19 emerges as a new global risk, the group's business may be disrupted.
Over the last two weeks the Lion City has been contending with a fresh wave of infections – in particular as a result of several clustered outbreaks at foreign worker dormitories. Individuals and the majority of businesses have been asked by prime minister Lee Hsien Loong to 'lockdown' until June 1, as the government tries to bring the outbreaks under control in what has been described as 'circuit breaker' measures.
Th country has announced a series of multi-billion dollar financial packages to help shore up the faltering economy.