A new crop of Asian insurtech startups
November 10 2017 by Nick Ferguson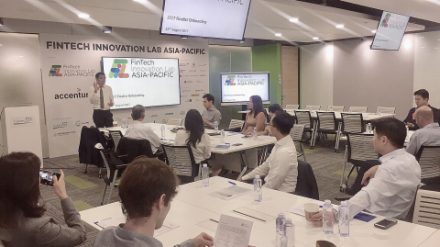 For all the talk of innovation and digital disruption in the insurance industry, what we have seen in Asia's insurtech space so far has tended to revolve around established dominant players — either large insurers or tech groups, or partnerships between the two.
However, there were a few Asian insurtech startups on display this week at Accenture's fourth annual FinTech Innovation Lab Asia-Pacific Investor Day at Cyberport in Hong Kong. Launched in June 2014, the lab is a 12-week mentoring programme that connects startups with potential investors. This is the first year that the event has featured dedicated insurance startups.
"Excellence begets excellence. Innovation spurs more innovation," said Cindy Chow, executive director of the Alibaba Entrepreneurs Fund, a not-for-profit launched in 2015 with a mandate to inspire a community of entrepreneurial achievers. "Put a bunch of startups together and you can spark a fire of excitement for developing new solutions, tackling previously unanswerable challenges and seeking to make the world a better place. These are lofty goals worth pursuing."
There were four insurance-specific startups in the group of 10 fintech players. And while Chow spoke about the importance of Hong Kong remaining a competitive business hub in the region, only one of the insurtech startups is actually based in the city. Whereas two are from Singapore.
But it is also notable that this is a private initiative backed by global financial institutions rather than a Singapore-style government initiative. The principal financial players supporting the lab include Bank of America Merrill Lynch, Commonwealth Bank of Australia, Credit Suisse, Goldman Sachs, HSBC, JP Morgan, Macquarie Group, Morgan Stanley, Nomura, Societe Generale and Sun Life Financial.
"The financial institutions in Hong Kong are supportive of working with fintech startups to help address new challenges," said Piyush Singh, head of Accenture's financial services practice in Asia-Pacific. "We're also seeing increased interest from the investor community in the companies we select for the program."
The startups are:
CoverGo – a tech platform that consolidates insurance policies from different providers in one place for customers and automatically analyses them to highlight gaps in coverage. This Hong Kong startup's app helps connect policyholders with their insurance advisers who manage their clients' policies. CoverGo automates manual insurance processes to help improve the quality of customer experience and engagement.
microUmbrella.com – a Singapore-based micro-insurance buying, managing and claiming platform that offers on-demand protection for the digital economy. Its mobile app enables customers to buy bite-sized protection plans, as well as make a claim, all within minutes. MicroUmbrella.com is introducing an artificial intelligence-powered chatbot that provides a seamless user experience for buying, managing and claiming insurance.
Stash – a healthcare and insurtech startup that provides a single health claims platform for patients, healthcare providers and insurance companies. The Singapore-based company analyses claims data to help health providers and insurance companies prevent fraud risk in claims processing and management, while also reducing administrative costs.
Tymbals – an Australia-based insurtech startup that has created a probability network to calculate enterprise risk. It substitutes expensive, time-consuming man hours with inexpensive, unlimited machine minutes. By using machine learning to populate and maintain a distributed ledger of enterprise risk, it aims to provide a secure, efficient and cost-effective service to help C-suite executives manage their businesses.
Alumni companies of the FinTech Innovation Lab Asia-Pacific have raised more than US$277 million in financing after taking part in the programme, so there is precedent that this year's crop of insurtech startups will raise sufficient funds to take their business plans to the next level. And that is a good thing for continued innovation in the region.